2008
RHODE ISLAND RADIO LEGENDS HONORED
Class Photo
Class of 2008
Members of the Inaugural Class of 2008 (L to R): Al Matthews, Paul Fuller, Donald Clark (son of Chris Clark), Gene DeGraide, Arlene Violet, Charlie Jefferds.

Not pictured: Walter "Salty" Brine, Chuck Stevens, Sherm Strickhouser and Chris Clark (deceased).
Click the photos to listen!



Walter "Salty" Brine (with Jeff)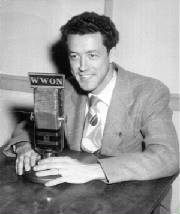 Gene DeGraide
Thanks to RI's own Vin Ciavatta
for his narrative talents!
RI Radio Hall Of Fame, presented by Navigant Credit Union, announces inaugural class
Warwick, RI – Radio is back in Rhode Island.
Not that it ever left. But an industry that began in the Ocean State in 1922 has had its share of notable broadcasters leave an indelible mark on the local landscape over time, and in the lives of Rhode Islanders everywhere. Thus, the Rhode Island Radio Hall of Fame has been established as an idea among local radio professionals with a goal to celebrate the storied history of the industry in Rhode Island, and honor the men and women who have played a part in its growth.
The RIRHOF Board of Directors is pleased to announce the inaugural induction Class of 2008:
Walter "Salty" Brine – legendary morning-drive personality from 1942-1993 on WPRO; inducted into the Rhode Island Heritage Hall of Fame in 1979; Galilee State Beach re-named "Salty Brine State Beach" in 1990
Listen - "No School, Foster-Gloucester!"
Sherm Strickhouser – originally a radio "disc-jockey" and booth announcer in the '50's and '60's, Sherm would become the "dean" of Rhode Island talk radio; his career included stints at WBRU, WJAR, WICE, WHJJ, WPRO
Charlie Jefferds – in his 16th year as afternoon-drive personality on Lite Rock 105 (WWLI-FM); more than five decades in radio including stops at WHIM, WICE, WPRO, WJAR as well as stints in Philly and New York City
Paul Fuller & Al Matthews – outrageous and funny morning-drive duo on 94 WHJY-FM for the past 18 years; their ratings dominance includes ranking #1 in adults age 25-54 during a stretch of 36 out of 40 books
Chris Clark – RI sportscaster whose career spanned four decades; the original "Voice of the Providence Friars," credited with the first radio play-by-play broadcasts of PC basketball in 1959; WPRO-AM/TV, WJAR-AM/TV
Arlene Violet – the one-time Roman Catholic nun and Rhode Island Attorney General enjoyed a 17-year stint as afternoon drive talk show host on WHJJ; named "best talk show host" by the Readers Poll of RI Monthly for 16 straight years
Gene DeGraide – popular "disc-jockey" and host whose Rhode Island radio career spanned five decades--1947-1983--at WWON, WJAR and WKRI; Gentleman Gene also hosted several TV shows on Channels 10 and 12
Chuck Stevens – pioneer "disc-jockey" and popular personality on radio stations WRIB, WICE, WPAW, WXTR, and WGNG during the "rock 'n roll" era of the '50's and '60's; also spent time in sales and promotions during a four-decade career
The official induction banquet for the Class of 2008 took place at Rhodes-on-the-Pawtuxet in Cranston on Thursday, May 22nd, 2008 at 7:00 pm. All proceeds from the event benefit the children of A Wish Come True, Rhode Island's oldest wish granting organization.
As an added attraction to the Rhode Island Radio Hall of Fame, local radio fans are encouraged to participate as Associate Members, by contributing a one-time fee of $25. For their donation, associate members will earn the right to nominate local radio industry professionals for future consideration in the Hall of Fame, receive a discount on induction ceremony dinner tickets, and receive a certificate of membership. The $25 lifetime membership fee is tax deductible, and should be made payable to A Wish Come True, Inc.
As a work-in-progress, the website already features information on the formation of the Hall, links to Rhode Island radio stations and websites, and will continue to feature photos and audio clips from the inductees, memorabilia and more! Everyone is encouraged to interact and contribute to the Hall website!