2019
RHODE ISLAND RADIO LEGENDS HONORED
The Board of Directors of the newly reorganized RI Radio & TV Hall of Fame announces the INDUCTEES for the Class of 2019!
Bill Haberman- WPRO
"Radio "
Rhode Islanders first heard the voice of Bill Haberman on WPRO in 1992, when he joined the station as a part-time member of the news staff. Bill came to WPRO from WVVE, Stonington, CT and before that worked at WZFM in White Plains, NY. By 1996, he was full-time and took over morning drive newscasts in 2000. Since 2007, Bill has been both anchoring mornings and serving as News Director.
The East Brunswick, NJ native and Fordham University grad met his wife, Jessica, of Narragansett in 2000 and they married in 2002. Their three children, Ben, Sofia and Kip attend local schools.
If you've ever wondered how Bill can anchor a full morning shift, come back the same evening for election coverage, and be back on-air clear-eyed the next morning, credit the conditioning that comes with 30 years of long-distance running. He recently completed his most recent marathon, the Ocean's Run in Misquamicut.
Bill also can be heard regularly on the East Side, where he announces home games for Brown University basketball, football, soccer, hockey and lacrosse.
---
Tracy Lynne (McCarthy) I HEART RADIO
"Radio-Up and Coming"
The "Up and Coming" awards are presented to a radio and to a television personality who have been noted as the future of our industry and present leaders in their respective roles.
Tracy has been in the radio industry for the past nine years. Getting her start as an intern for Qantum Cape Cod in 2011, Tracy quickly became a pivotal member of the team taking on Board Opting, Executive Producer and part time On Air shifts. In 2012 Tracy advanced to full time rolls becoming the Assistant Operations Manager for WCOD-FM, WCIB-FM, WXTK-FM & WEII-FM as well as the Midday Personality for WCIB-FM. In 2014 Qantum Cape Cod was purchased by iHeartMedia giving Tracy an opportunity to network within the New England region. She took on the additional rolls as Digital Program Director and due to this in 2017 transferred to iHeartmedia Providence. In addition to maintaining her rolls for WCOD-FM, WCIB-FM, WXTK-FM & WEII-FM she also obtained the Digital Program Director roll for WHJJ-AM, WHJY-FM, WWBB-FM & WSNE-FM. In 2018 Tracy stepped down as Assistant Operations Manager and the Midday Personality for WCIB-FM and transferred to Middays on WWBB-FM. Currently Tracy is the Midday Personality for WWBB-FM, Assistant Program Director for WHJJ-AM, WHJY-FM, WWBB-FM & WSNE-FM, Digital Program Director for WCOD-FM, WCIB-FM, WXTK-FM, WEII-FM, WHJJ-AM, WHJY-FM, WWBB-FM & WSNE-FM and part time On Air Talent for Z107 in Portsmouth NH.
---
ALANA CERRONE – WLNE TV
"Television-Up and Coming"
The "Up and Coming" awards are presented to a radio and to a television personality who have been noted as the future of our industry and present leaders in their respective roles.
Alana Cerrone began her career with ABC6 News in July of 2013 as an Assistant Assignment Editor before becoming a multimedia journalist.
Before joining the ABC6 News Team, Alana produced and hosted a health news minute on WLWC-TV in Providence.

Born and raised in Cumberland, Alana spent 4 years in Philadelphia where she graduated cum laude from Villanova University. She now lives in Warwick with her husband and two dogs, Tito and Bean.

Alana has a particular dedication to Southern New England news, and loves to tell the stories of her home state. She's covered a wide range of stories throughout her career at ABC6, from the Patriots victory at Super Bowl 53 in Atlanta, GA, to an up-close look at the Central Falls Citizen Police Academy, to the 2018 Rhode Island gubernatorial election.
---
Patrice Wood- WJAR
Television
Patrice Wood is the longest serving female newscaster in the state with 39 years on the air at WJAR-TV.
Starting at NBC 10 in 1980, she has been the recipient of numerous volunteer and professional awards, including the prestigious Silver Circle award from the New England Association of Television Arts and Sciences and the Congressional Angels in Adoption Award. Recently, Patrice was inducted into the Rhode Island Heritage Hall of Fame, the highest civilian honor that can be bestowed upon an individual in the state.
Prior to joining NBC 10, Patrice was a news anchor/reporter for WDHO-TV in Toledo, Ohio. Patrice also held several news positions with WBGU-TV in Bowling Green, Ohio.
She held internships with the United States House of Representatives, Time Magazine, as well as the ABC-TV network in Kansas City, Missouri.
A native of Rockford, Ohio, Patrice received a Bachelor of Science in journalism from Bowling Green State University in Bowling Green, Ohio.
Her Tuesday's Child reports, which feature children in state care who need permanent homes, have resulted in numerous children being matched with adoptive families.
In her spare time, she enjoys outdoor activities with her family.
---
Walter Cryan
Television
Walter Cryan is a Broadcast Veteran with a 50 year career in Radio and Television.
His first job on radio was at WCAP in his hometown of Lowell, MA. Along the way he worked at WHIL in Medford,MA, WARA in Attleboro,MA. and WPRO in Providence.
He also gained valuable experience at WBUR-FM the student operated station at Boston University from where he earned his BS degree in Communications in 1956.
During his Army service (1952-1954) he was assigned to AFN Europe, The American Forces Network, Frankfurt Germany. He aired live radio coverage of Army/Air Force Sports competition, The 24 Hours Of LeMans, and numerous news reports.
In 1965, after 13 years in radio, he joined WPRO AM/FM/TV, where he aired morning news on Radio and weekend Television newscasts. In 1967 New Owners acquired the Television license, and turned it into WPRI-TV. Walter then became News Director and Anchor for 7 years and then Lead Anchor until his retirement from WPRI in 2000.
Four Years later Walter returned to television as anchor of the 6 o'clock News on WLNE in Providence. He remained there until 2007, and ended his broadcast career at the age of 75.
The Cryan's, Walter and Ruth along with their seven children recently celebrated their 67th wedding anniversary.
Walter has been given many distinguished awards through his career including: *Honorary Doctorate Degree In Lifetime Achievement from Providence College
* The Silver Circle Award by the Academy of Television Arts and Sciences for those who have been in broadcasting for 25 years or more in New England
*A Lifetime Achievement Award from Emerson College *A Distinguished Alumni Award from Boston University
*An Achievement Award from the Rhode Island Department Of Children & Families, as the "Father of Tuesdays Child".
*The City Of Providence, Citizens Award as Honorary Captain in the Providence Police Department
*An Honorary Trustee And Unsung Hero Award From Meeting Street School where he hosted The Meeting Street Telethon for 23 years.
---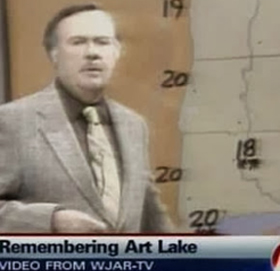 PIONEER AWARD – ART LAKE (WJAR)
The PIONEER Award is given to the Broadcaster who has been a key figure throughout his/her career and left a legendary trail for others to follow.
Starting with his first job in 1944, Lake was in broadcasting for over
60 years, eventually being inducted into the New England Chapter of the
National Academy of Television Arts & Sciences Gold and Silver Circles
in 2004. Art Lake retired three years ago.In his early years, Lake was a disc jockey on WJAR radio, covering weekday shows, "Music for the Mrs." and "Breakfast Tray," until WJAR-TV arrived in July 1949. Some of the station's first newscasts were
reported by the new anchorman, Art Lake.
Over the years, Lake covered some of the biggest and worst storms of his
career, including the infamous Hurricane Carol in 1954, and the Blizzard
of '78 where he was stuck at the State House in a station van.
Lake spent more than 60 years at WJAR. He began as an announcer on WJAR radio in 1944 and made the transition to television five years later when WJAR-TV went on the air. He was a booth announcer, program host, news reader and ultimately, weather forecaster.Art passed away in 2009.
---
Kim Zandy – 92 PRO FM
"Radio "
Kim Zandy has been the co-host of Giovanni and Kim in the Morning on 92 PRO-FM for 20 years, although, if you ask Gio, he'll tell you it feels more like 50! If you ask her, the very best part of those 20 years was meeting and working with the lovely and talented Will Gilbert.

Kim grew up in and around Philadelphia, PA, but when it came time for college, she traded the bright lights of the big city for the cows and cornfields of teeny, tiny Tiffin, OH and Heidelberg College. While there, Kim was the anchor of their local newscast and had a show on Heidelberg's radio station.

After graduation, Kim moved to Columbus, OH, grabbing an internship at Top 40 radio station, WNCI. Kim was quickly introduced to the glamorous world of radio interning by dressing up as McGruff the Crime Stopping Dog at a local pet walk, making toast for the morning show hosts, and getting herself locked in the station's prize closet.
Kim moved up the ladder at WNCI, becoming a programming assistant, Promotions Director, and finally….landing her dream job as one of the co-hosts of the Morning Zoo radio show. Ahhhh….but all good things must come to an end, and Kim was fired from that show 4 years later. (Don't feel bad…it happens.) The phone calls to anyone and everyone ever connected to radio began in earnest, but it was a call to Sex Book Author, Laura Corn, that would get the job done….so to speak.

As luck would have it, WPRO-FM was looking for a new morning show, and Kim was paired with Giovanni. They tapped the unparalleled genius of Will Gilbert, as Executive Producer and the Giovanni and Kim in the Morning era began. Gio and Kim have been a team for 20 years (and counting!) as of April 5, 2016!

Kim has been an East Providence resident from the day she set foot in Rhode Island, although, in the beginning, it had more to do with the short commute to the Wampanoag Trail than a love of EP.
In 2015, Kim decided Mr. Right was either too stupid or too lazy to find her, so she'd just start a family on her own. Kim became a foster mom to two beautiful children, Julian and Arianah, in Feb 2015. On December 11, 2015, the three of them became an official forever family!! Best Christmas present ever! While her hypothetical parenting skills were MUCH better than her actual parenting skills, she loves 83.4% of the minutes of being a mom. (It's hard to take toddlers to the beach. Will Gilbert was right!)
With supports for foster and adoptive families being difficult to obtain, Kim and 4 other foster and adoptive moms started The Village for RI Foster and Adoptive Families, a 501(c)3 organization. Through support groups, family events, a clothing and equipment closet, advocacy, recruitment, the Village has built a strong network that has been invaluable to foster and adoptive parents and children.
Over the years, Kim has also been involved in several other charitable organizations including Hasbro Children's Hospital, Friend's Way (a children's bereavement center), and The Women's Center (Domestic Violence).