2022
RHODE ISLAND RADIO & TV
LEGENDS HONORED
The Board of Directors of the newly reorganized RI Radio & TV Hall of Fame announces the INDUCTEES for the Class of 2022!
Frank Carpano - NBC 10 WJAR

Television
Frank Carpano arrived at NBC 10 in 1980, shortly after graduating from Ithaca College. He has been sports director and primary sports anchor since 1984
Frank's first big assignment was covering the 1983 America's Cup in Newport.
He was stationed in Newport for 3 and a half months and was a part of the first internationally televised
America's Cup race.
During his more than 40 years at NBC 10, Frank has had the good fortune to cover numerous Super Bowls, World Series, NBA Finals, Stanley Cup Playoff games, NCAA tournament games and Olympics.
A two-time Olympic torch carrier, Frank won a New England Emmy for his series of reports on his preparation for the torch run.
At the 2006 Olympic Games in Torino, Italy, Frank worked for NBC, reporting on the games for the network's owned and operated stations across the country.
For several years, Frank could also be seen as a fill-in sports anchor at WNBC-TV in New York City.
During his tenure at NBC10, Frank has also served as play-by-play announcer for Brown University football, Providence College hockey and numerous televised high school basketball and football games.
Frank has also served as a Championship Boxing ring announcer. And for more than 20 years he has been the public address announcer at Providence's Dunkin Donuts Center for Providence College basketball games.
Carpano is a 12-time National Association of Sportscasters and Sportswriters "Sportscaster of the Year" winner.
Frank has also been inducted as a member
of the National Academy of Television Arts & Sciences –
Boston/New England Chapter Silver Circle.
---
Ken Bell – ABC 6
Television
After growing up with a curvature spine, Ken could not play sports as a youngster.  Instead, he dreamed about broadcasting sports.  In high school, he hung around the local radio station KBOL in Boulder, CO.  Just months after graduating in 1969, the station offered him a job as a sportscaster and DJ.  During his senior year at the University of Colorado, Ken was hired as a weekend sportscaster at KOA-TV in Denver in 1974.  Looking to get on the air every night, he accepted a job at WMT-TV in Cedar Rapids, IA.   After thirteen months in Iowa, Ken moved to Providence In 1977.  He spent the next 2 ½ years working as back-up to the legendary Chris Clark at WJAR-TV.  Ken then stepped out of sportscasting to cohost "PM Magazine" at WISN-TV in Milwaukee.  Three years later, he returned to Providence in 1982 to become sports director at WLNE-TV.  Ken held the position for 35-years until retiring in 2017.  He added two more years co-anchoring "Friday Night Lights," before ending his 50-year career in 2019. 
Ken graciously received the following awards:  RI Sportscaster of the year (2000, 2014, 2015, 2016).  New England Emmy for an America's Cup Special (1977), and the "Silver Circle" award (2009).  
He has been a long-time mentor of inmates at the ACI.  As a deacon at Christ Church, Ken serves at the Friday Care Center which is open to all in need of assistance.  He also volunteers for the Furniture Connection, collecting and delivering furniture to those in need.  Ken serves as chairman of the East Greenwich Ecumenical Council.
---
David Simpson – 92 PRO FM
RADIO
David Simpson got his start in radio at WICH 1310 AM in 1975.  After a few years, Gary Berkowitz called and hired David for 7p-12a on WPRO-AM 630.   Then in January of the next year, David became the afternoon drive dj at PRO-FM – a position he held for 16 years.  During his time at 92.3, David was elevated to program director which eventually led to his firing – it's a long story.  In 1996, greener pastures awaited in the form of music director and midday dj at WTIC_FM in Hartford.  During his 25 year run in Hartford, David also did weekends at WPLJ and eventually weekends at WCBS-FM.  At this time, David is a playlist curator for hip hop WZMX and  ac WRCH.
---
Doug White (P) NBC 10 WJAR
Television
A native of Boston and alumnus of Bates College, Doug White's first work in television was at WGBH TV while at Boston University on a work fellowship. He worked at WSMW TV in Worcester and WLBZ TV in Bangor Maine before joining WPRI TV in 1972 as a reporter and anchor. Doug White joined WJAR TV in 1978 to become the market's most respected and successful news anchorman from that time until his passing in 2005. He was a member of the Silver Circle of the New England Chapter of the National Academy of Television Arts and Sciences. Members of the Silver Circle are recognized for their significant and long term influence upon the broadcast community. He received numerous awards for his work on air and behind the scene including an Emmy in 1980 and the 1984 "Man of the Year" award from the Volunteers in Warwick Schools.
---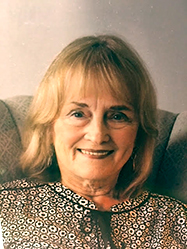 Joanie Pfeiffer - WJAR
Radio
In the early 70's, Joanie was The Assistant to the General Manager at WJAR T-V where she also produced a public affairs program and several political specials. In 1974 Joanie was hired by the radio arm, 920 WJAR as a part time disc jockey  becoming the FIRST female jock in medium market Providence. In 1977, Joanie  joined WNRI in  Woonsocket  full time as Morning Drive host, again a first for a female. Three years later after a stop at WPRO-AM, Joanie joined  50-thousand Watt Sock Rock  WMYS making her the FIRST woman to host a morning show in the Providence market on a major station. During her 9 years at WMYS she also served as Program Director and Operations Manager, another female first!  She later served as the voice of WSBE-TV Rhode Island PBS until 2005 and tonight she joins the Rhode Island Radio and Television Hall of Fame.
---
Tony Petrarca joined WPRI-TV

Television
Chief Meteorologiet Tony Petrarca joined WPRI-TV over 35 years ago in March 1987. He is a native Rhode Islander, grew up watching WPRI 12, and has lived here his entire life.
As a child, Tony would track snowstorms and hurricanes on his "weather wall" at home, and always dreamed of becoming a meteorologist. He thanks his parents for their love and support in helping him achieve his dream.
He is a graduate of Toll Gate High School in Warwick and Lyndon State College in Lyndonville, Vermont, where he earned a B.S. Degree in Meteorology.
Tony is a member of the American Meteorological Society and holds the Society's highest standards for a television meteorologist with the "A.M.S. Broadcast Seal Of Approval" award. In 2012, he was inducted into the National Academy of Television Arts and Sciences' Silver Circle in recognition of his work as a meteorologist.
He has been nominated six times for the New England Emmy Award for his work and was voted Most Accurate Meteorologist 10 times by Rhode Island Monthly Magazine annual readers poll, as well as numerous civic awards. He has led the Pinpoint Weather team with Associated Press Awards for "Best Weathercast" in 2001, 2002, 2003, 2004, 2005 and 2006 and 2012.  An independent research company called "WeatheRate" has  awarded Tony and the Pinpoint  weather team "most in accurate southern New England" for the past 5 consecutive years.  One of Tony's career highlights was spending a winter weekend atop of Mt. Washington, N.H., which later turned into a half-hour Emmy-nominated weather documentary entitled "On Top Of New England."
In the past 35 years, Tony has forecast and covered everything Mother Nature has to offer here in New England including multiple Nor'easters, the Historic Floods of 2010, Hurricane Bob, Tropical Storm Irene and Sandy, the Blizzards of 2013, 2015, 2022 and the 1995-1996 winter, which brought more than 100 inches of snow, and countless severe thunderstorms.
Tony never really left school. In the past 3 decades, he has logged more than 600 elementary school visits teaching children about weather. With his influence and guidance, some of these younger students decided to study weather in college.
Tony's motto is to "give back to the community" that he grew up. He has donated countless hours to various charitable organizations including the Special Olympics Rhode Island, "Tomorrow Fund," "Meeting Street School," "East Bay Coalition For The Homeless," "Crossroads Homeless Shelter," "The Fogarty Center," "Hasbro Children's Hospital" and was a member of the board of directors for the Multiple Sclerosis Society. Tony is one the co-host for the annual Meeting Street Telethon and former host of the Jerry Lewis Muscular Dystrophy Association Telethon. In 2015, he received the "Sons Of Italy Community Service Award" He also serves as a Eucharistic minister at Sacred Heart Church in West Warwick.
---
Truman Taylor -WLNE TV

Television
Broadcaster Truman Taylor's career has encompassed stints as reporter, anchorman, news director, director of programming and host of an interview show. Taylor began his broadcasting career in Bangor, Maine in 1954. In 1962 he joined what was then WTEV-TV and would become WLNE, Channel 6. Taylor was the station's principal evening news anchor from 1964 to 1980, doing double duty when he was named news director in 1972.
In 1984 Taylor became director of programming and public affairs. He retired from his administrative duties in 2001 but continued to moderate his Sunday morning interview show until 2005.
 For more than 20 years, 1993 until 2015, Taylor was also a featured Op-Ed columnist for the Providence Journal.  Many of his commentaries are syndicated nationally by Scripps-Howard.
In 1965 he began a weekly interview "Truman Taylor" that he hosted for the next 40 years, until December 2005. Prominent guests on the program included Presidents Jimmy Carter, Gerald Ford, George H. W. Bush, Barbara Bush and Senator Ted Kennedy.
In the 1970s-1980s he hosted Senators Kennedy and John Chafee of Rhode Island on his program "The Senators Respond" which originated from Washington D.C. once each month. These programs have been preserved by the University of Rhode Island.
In January of 1983, when New England was suffering from severe recession and extremely high unemployment, Taylor produced and hosted a 3 hour long "Jobathon."  Pre-empting network prime time programming, unemployed job seekers appeared to present their qualifications and aspirations. The state employment departments of Rhode Island and Massachusetts joined in the effort and more than 400 unemployed people obtained jobs. President Ronald Regan telephoned Taylor on the air to praise the program saying  "This is a fine example of private sector initiative and I thank you for being so creative."  The President then invited Taylor to lunch at the White House.
Truman Taylor was inducted into the Golden Circle of the New England chapter of the National Television Academy in 2004.